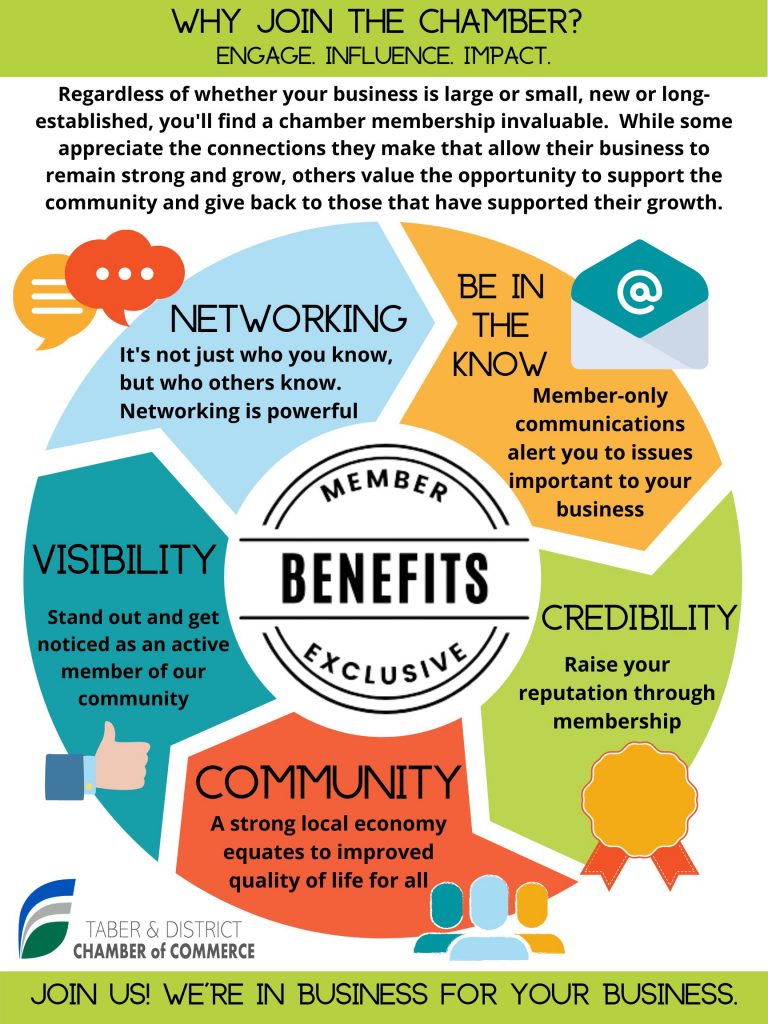 In the time of economic upheaval that we have gone through, all businesses have had to evaluate their expenditures to ensure they are getting value for their money.  At the Chamber, we have also had to ask this question of ourselves so that we remain relevant to our members and continue to meet their needs.
What does the Chamber actually do?  Here are a few of the more important things:
Holding community events:

Annual Dinner and Awards - Third Friday in Jan - Jan 19, 2024
Parade - August 22, 2024
Cornfest - August 22 - 24 2024
Winter Festival- Nov 17, 2023
Passport to Christmas - Nov 13- Dec 10, 2023
Best Decorated Business - November 13 - Nov 30, 2023

Facilitating member to member discounts and value-added programs which help keep business local
An online business directory of members
Creates a weekly e-newsletter which goes out to members and non-members with important information about Taber & area such as coming events, job listings, etc.
Created and runs an app called Taste of Taber which lists all restaurants in Taber and area along with their menus and contact information.
See Below for Details
Group Health Insurance Plans for Chamber Members
Chamber members have access to Canada's largest employee benefits plan targeted to small-to-medium sized business.
Operating since the early 1970s, Chambers Plan now provides coverage to over 30,000 firms like yours. Regardless of the size of your organization Chambers Plan can be customized to meet your needs, request a free quote today and let us show you how we can customize a plan for you.
Established
Your firm's rates will remain stable regardless of claims history. Additionally, Chambers Plan Group Health Insurance is non-cancelable due to any claims experienced by your firm. Your company will never be singled out for a rate increase, ever.
Local
Your business is unique, so your business needs unique coverage. That is why a local Chambers Plan advisor administers your employee health benefits plan. A Chambers Plan advisor is a member of your community. Whether you want to add dental coverage, change or update, or simply ask a question, your advisor is there for you.
​Customizable
Coverage can be tailored to suit your needs. Customize your plan selecting from a wide range of coverage – life, health, dental, disability, critical illness and much more! As well, Chambers Plan members have access to my-benefits® an online management tool. This tool allows you to administer your plan anywhere, anytime.
​Comprehensive
Chambers Plan offers traditional coverage such as life, health, dental and disability, critical illness and so much more. No matter the size of your business we have a comprehensive group health insurance package for you. Enjoy guaranteed renewal coverage and outstanding service through your local advisor.
​Additional Benefits
At no extra cost, every plan comes with Chambers Plan's Business Assistance Program, access to Teladoc® and access to the Best Doctors® program, a truly valuable resource. The Best Doctors® program helps members get a second opinion and advice from some of the world's leading medical experts in a wide range of medical fields. The Teladoc® telemedicine service helps firms/employees consult with a physician about non-urgent medical matters by video conference or by phone, in Canada or the U.S., 24 hours a day, 365 days a year.
Chambers Plan is proud to deliver these services available to every one of your employees. It is just one more example of the value Chambers Plan can provide. We can find a Plan that is right for you! Visit our website today at www.chamberplan.ca to find out why Chambers Plan is Canada's #1 group health insurance plan for small firms.
Your Local Chamber Group Insurance Advisor:
Scott Walls | BMgt., RHU | Alberta Workplace Solutions Inc.
70, 550 WT Hill Blvd S, Lethbridge, AB T1J 4Z8
P: 403-892-9675  TF: 888-992-9675
scott@albertaworkplacesolutions.com
www.albertaworkplacesolutions.com
Value Added Benefits through Alberta Chambers of Commerce
Value Added Benefits through Canadian Chambers of Commerce