We feel it has never been more important for people to shop local and support local businesses than now.
This promotion started as a substitute for our Taber Cornfest and to help encourage people to shop local while at the same time getting our members names out there.  We would like to let everyone know that we will be continuing our Local First TDCC promotion. Every time you purchase a product or service locally (minimum $25, can be combined) you can submit your receipt to win a monthly prize.
You can enter electronically by emailing a picture of the receipt to taberchamber@gmail.com, by mail sending your receipts along with your name and phone number to the Taber & District Chamber of Commerce, 4702 50st, Taber AB T1G 2B6 or by dropping in person to the mentioned address.  Please make sure your picture is in focus so I can see the amount and that you include your name and phone number so I can contact you if you win. 
Through all these efforts, we want to continue to create a movement of support, create even stronger relationships and connections with our business community and promote Local First TDCC to be an ever growing promotion.
Our businesses are our friends, neighbors, coaches, service providers and colleagues, so make sure you put Local First and help us make a collective impact within our community by supporting local.
If your business is interested in participating please contact Anne at the Chamber office by phone 403-223-2265 or email taberchamber@gmail.com
NEW THIS MONTH you can also drop your receipts at the monthly sponsor businesses, no minimum purchase but do make sure you write your name and number on the back of the receipt!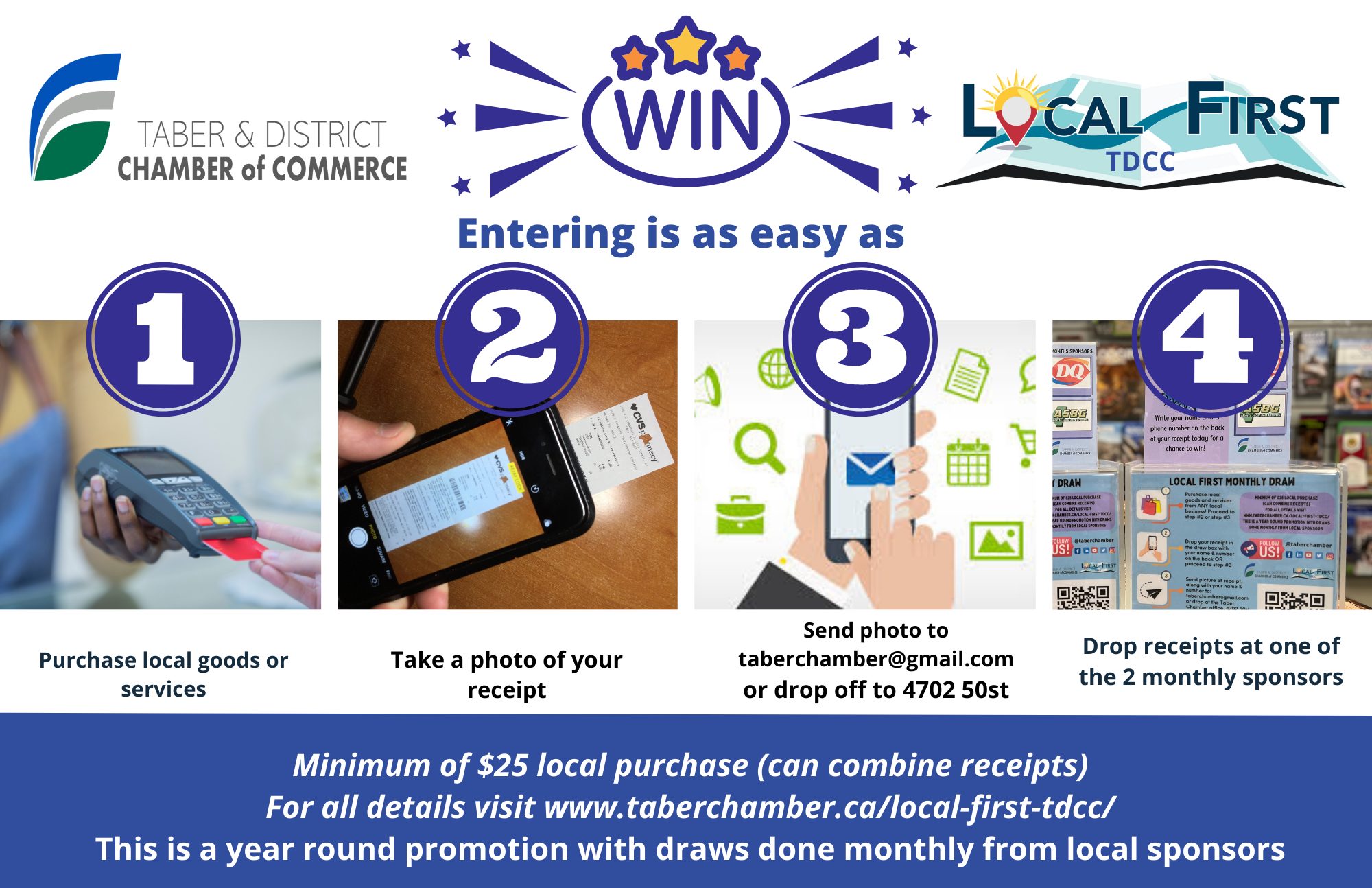 Heinrich Redecop - $25 Chamber bucks sponsored by Maple Leaf Construction
Carrie Vayro, John Enns, Kevin Brandics, Leah Jespersen, Diane Sparks - Each won 3 extra value meals from McDonald's Restaurant
Past Sponsors of Local First TDCC