Taber Cornfest is the largest FREE family festival in western Canada, thanks to the generosity of sponsors listed on this page, and many others! People come in large numbers from near and far for two days of fun, entertainment, exhibitions, displays, a large Show and Shine of classic and many other character cars, a midway of rides, and a variety of other events, as illustrated in the images above. Corn is King at Cornfest, and the famous Taber vegetable is celebrated in displays, events and of course in food. You have to be here to see what all the fuss is about. We believe you will find out for yourself why Taber corn rules!
Every year in August on the last full weekend before the long weekend, the Taber and District Chamber of Commerce hosts the largest free family festival in western Canada. It celebrates with music, entertainment, rides, chili cookoff, show and shine, skateboard corn-test, huge fireworks, and much more! Come for the corn and stay for the fun! You can find us in Confederation Park at 50 ave/50 street.
Cornfest has been cancelled for 2020 due to COVID-19
On account of the COVID-19 pandemic, the Chief Medical Officer of Health of Alberta has banned all gatherings of more that 15 people for an indefinite period of time and has further restricted gatherings of all major summer events and festivals in Alberta. These steps, as well as our continuing concern for the health and wellbeing of our community, means we are unable to host the 2020 edition of Taber Cornfest.
Read the Full Release HERE
Come out to support our many local businesses and celebrate the end of summer, but please do so responsibly. Take all COVID-19 precautions, including physical distancing, frequent hand washing and disinfecting, and staying home if you're sick.
Taber IGA / Kiwanis Club Drive-Thru Pancake Breakfast - 8:30-10am @ Civic Centre Parking Lot
Gearlords Car Club Show 'n' Shine - 10am-4pm @ Downtown Taber
Shop Local Market #LocalFirstTDCC - 9am-11pm @ Downtown Taber
Taber Chamber Ground Breaking - 11:30am @ Intersection of 55 St & 47 Ave
Corn Giveaway *First Come, First Serve - Starts at 12pm @ Taber Cenotaph
Farmer's Market - 1pm-6pm @ Confederation Park
Food Truck Market - 1pm-6pm @ Confederation Park
Fireworks *Weather permitting* - Approx. 10pm Lit off from Golf Club
#LocalFirstTDCC
Make purchases at local businesses and be entered to win a $25 Gift Card! Take a photo of your receipt and send it to taberchamber@gmail.com with subject line "Local First TDCC".
For more information
Town of Taber Website: www.taber.ca
Taber Chamber Facebook: @Taber.Chamber
CLICK HERE FOR A PDF TO PRINT OUT WITH A MAP OF EVENTS, DEALS, ETC.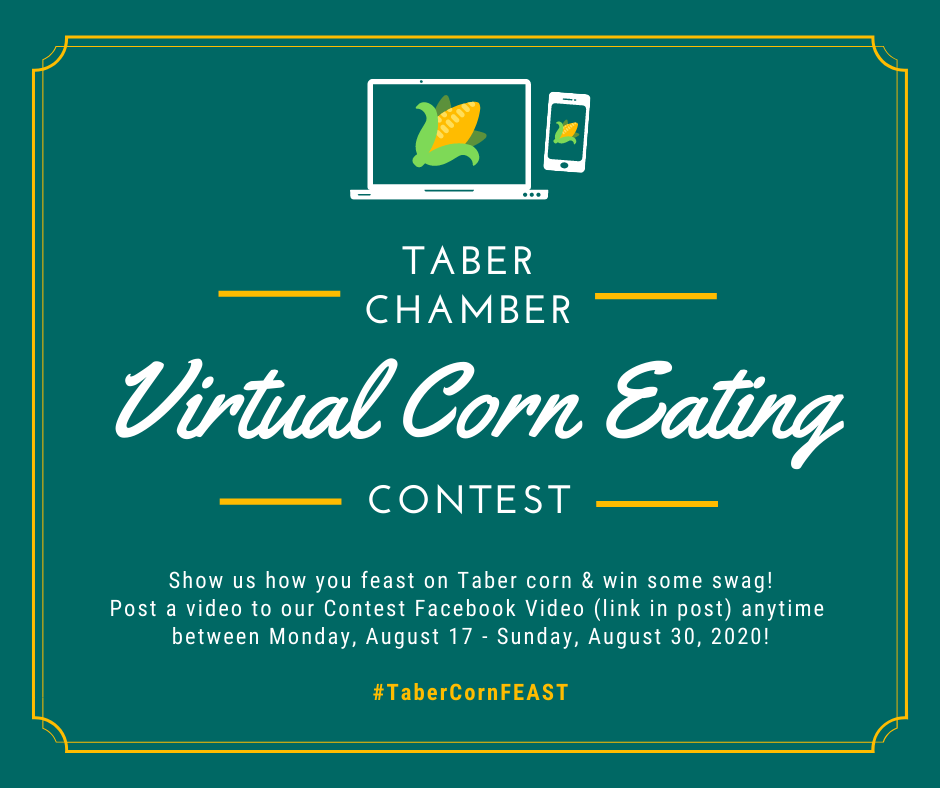 Click thumbnails below to open Cornfest 2019 Information Pamphlet