The Town of Taber has implemented a Temporary Mandatory Face Coverings Bylaw. To see more information, scroll down.
As of November 24, 2020, the Government of Alberta has declared a state of public health emergency. Mandatory measures are now in effect. To see these mandatory measures, click here.
Help prevent the spread of COVID-19 in Taber and in Alberta. Latest info (including stats, health orders, and more): click this link.
Stay informed on how you can help prevent the spread. Concerns about your health? Call Health Link 811.
Mandatory Masking Requirements
Please note that as of December 8, 2020, masks are now mandatory Province-wide. See the Government of Alberta's website for more information.
Business Resources
With the new Provincial mandate on masks, we know businesses may have some questions. The Town has provided the resources below for your use:
The Town also has posters and graphics available for businesses to download and use as they like: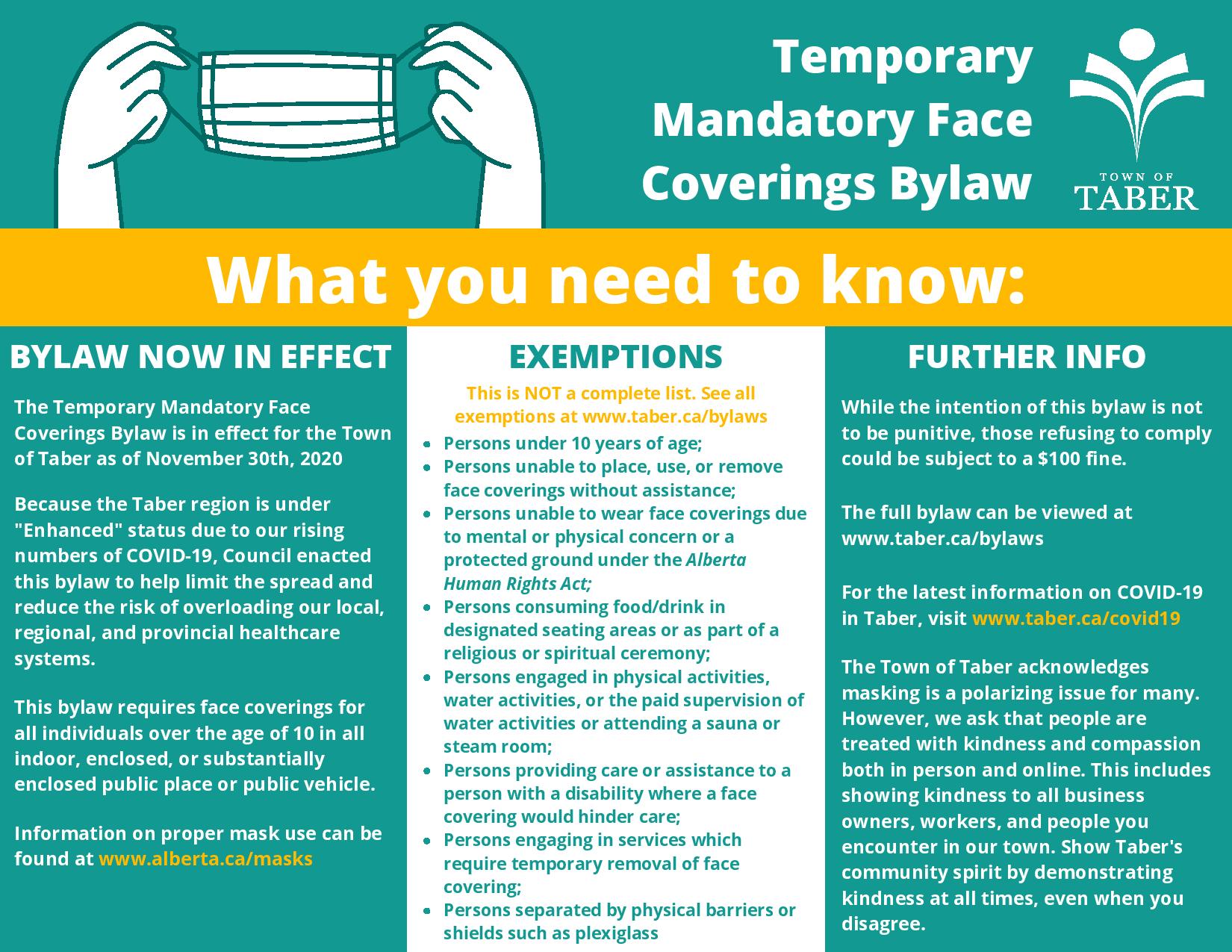 Monitor the Situation and Stay up to Date
Local Resources for Business
Provincial
Federal
International
Latest Information:
Alberta Biz Connect - Workplace guidance and supports to help businesses and non-profits affected by COVID-19 begin to reopen and resume operations safely.
Submit a Complaint
If you see facilities that are not following the limitations and restrictions of the province, please notify public health inspectors through the online complaint form.
If you experience an unfair business or tenancy transaction, you can find more information and file a complaint here.
Is red tape affecting your ability to reopen your business? Fill out the Government of Alberta form to tell the government how it can better support your business through the relaunch transition.
The Chief Public Health Officer of Canada has recommended that Canadians should avoid and cancel non-essential travel outside the country with enhanced screening measures at airports to be announced. The federal budget has been postponed and will not be delivered on March 30. Parliament and the Senate stands adjourned until April 20.
What you need to know:
We encourage everyone to heed the advice of medical professionals and take these precautionary steps.
Effective March 12, all Albertans currently outside Canada should self-isolate for 14 days when they return.
If employees have visited a Italy, Iran or China's Hubei province in the last 14 days, it is recommended they isolate themselves until two weeks have passed since that visit. This is recommended even if they are feeling well.
Employees should self-isolate and call Health Link 811 for additional precautions and follow-up testing if they have travelled to anywhere outside of Canada and experienced any of the following:

contact with someone who was suspected or confirmed to have the novel coronavirus
were in a health-care facility
have symptoms, such as cough or fever
If an employee does not meet the exposure criteria above, they do not need to stay away from work, and do not need any testing or a physician's note to attend work.
Find the latest information from the Government of Alberta
If an employee has to self-isolate
Employees and employers should work together to explore alternate working arrangements:

Working from home or remotely
Doing work that does not require the employee to contact other people in the community or at work

If an alternate working arrangement is not possible, employees can use paid sick time if their employer offers this.
Changes to the Employment Standards Code will allow employees who are required to self-isolate or are caring for a loved one with COVID-19 to take 14 days of paid job protected leave to cover the self isolation period being recommended by Alberta's Chief Medical Officer of Health
There will be no requirement to have a medical note for such leave or to have worked for an employer for 90 days to qualify for such leave.
Business continuity plans
Ensure your business is prepared to handle a potential case of business disruption, including accessing available government resources to mitigate potential financial impacts to your employees and your business.
COVID-19 Guidance and Resources
Preventative Measures for Business
Encourage good hygiene practices. Encourage your staff to wash their hands frequently, and ensure that tissues and hand sanitizer are available throughout your property for all staff and visitors to use.
Stay home if you aren't feeling well. Encourage staff to stay at home and away from others if they are exhibiting flu-like symptoms, such as fever or a cough.
Consider additional social distancing measures, such as working remotely.
Posters: Handwashing, Work Station Cleaning, Vehicle Cleaning
While it is important to be cautious and heed all medical advice from Chief Medical Officers and government it is also important to be measured in our response to this situation.
Restricted and Non Restricted Services
Alberta has implemented public health orders restricting mass gatherings to protect Albertans' health and limit the spread of COVID-19.
Restricted and Non Restricted Services
Alberta has implemented public health orders restricting mass gatherings to protect Albertans' health and limit the spread of COVID-19.
Prevent the Spread
All Albertans are encouraged to take personal steps to help prevent the spread.
To protect yourself and others:
Wash your hands regularly with soap and water for at least 20 seconds.
If soap and water are not available, use an alcohol-based hand sanitizer.
Avoid touching your eyes, nose and mouth with unwashed hands.
Remember to cough and sneeze into your sleeve or a tissue and then throw away the tissue and wash your hands or use a sanitizer.
Regularly disinfect your hands, surfaces and objects, such as desks and shared areas.
If you have symptoms, like a dry cough, fever, fatigue or difficulty breathing:
View additional information on Symptoms and treatment and testing in Alberta.
View the hand sanitizer recall notice for certain hand sanitizers.